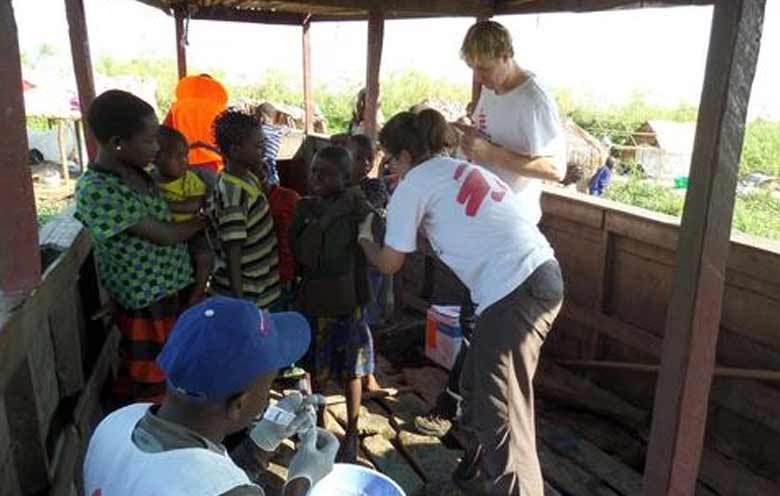 Hear Congo's August 2015 News Roundup
March 18, 2018
Hear Congo October 2015 Roundup
March 18, 2018
With the presidential election approaching, political news is, without a doubt, buzzing. At the beginning of the month, current President Joseph Kabila signed legislation to ensure that elections will stay true to the electoral calendar. This is particularly important since many have gotten the feeling that he is not exactly wanting to step down. This being said, people continue to have an unhopeful feeling concerning the end of his term. In other governmental news, the UN is calling upon the Congolese government to take action in assisting government camps filled with ex-rebels and their families, since they have decided to stop providing aid due to a shortage of funds.
A pretty major project has been started by Samsung Electronics Africa in Kasenga – a Digital Village. This digital village is comprised of "a Solar Powered Internet School, built to accommodate up to 24 learners; a Solar Powered Tele-Medical Centre; and a Solar Power Generator that powers up the Admin Centre, which can be used as office space for local entrepreneurs and any other nearby school or community centre personnel with limited electricity supply." The village will be a great resource for local businesses and students, providing more connectivity throughout the country.
An ongoing and well-known conflict in the DRC revolves around minerals and their source. The country has an immense amount of minerals; however, many buyers worry that their money ends up going towards the exploitation of workers and the funding of violent occurrences. Thus, the United States Agency for International Development is trying to put buyers' minds to rest by assuring there are "clean" minerals to be bought from the country, using smart tags to trace where the minerals are coming from. Ensuring safe and ethical purchases would mean great economic opportunity in the Democratic Republic of the Congo.
MSF continues to make strides in fighting disease in the DRC. This month, they have made quite an effort to treat sleeping sickness. Their goal is to reach 42,000 people to test and treat the disease, which is especially prevalent in rural and remote areas of the country. MSF has been tackling the disease for 25 years now, but now they are especially targeting these hard to reach places, where there is not much medical help for people with the disease. MSF has reached 12,183 in the past five months, 91 of them have been diagnosed with sleeping sickness.
The Democratic Republic of the Congo made an appearance in the science scene this month. The University of British Columbia's research on Kabuno Bay reveals a look into the very early life of the marine world, "and supports theories that tiny microbes created some of the world's largest ore deposits billions of years ago." Marc Llirós of the University of Namur, who was the first author of the paper, states "Kabuno Bay is a time machine back to the Earth's early history when iron-rich ocean chemistry prevailed." Essentially, the bay is solving some interesting scientific mysteries.
To stay up to date on DRC news, follow Hear Congo on Twitter.